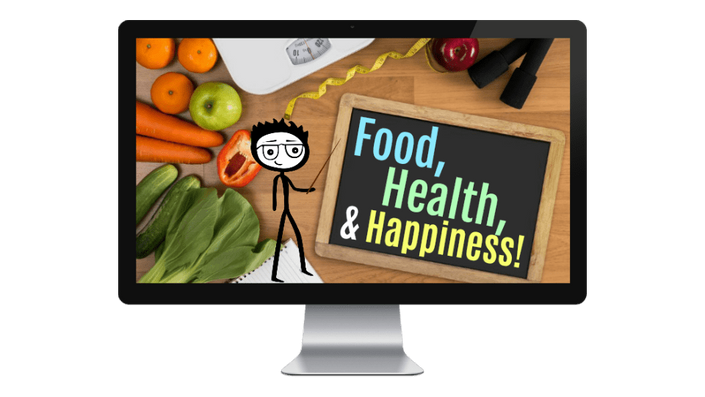 Food, Health, and Happiness
Past the Hype and Confusion and into the Simple Scientific Basics of Better Health for Beginners!
Do any of the following resonate with you?
Are you confused about how to get healthy?
---
You desperately want to be healthy and feel great, but there is just soooo much information out there - most of which contradicts itself.
Do all the endless diets confuse the crap out of you?
---
Paleo, Vegan, Keto, Vegitarian, Zone, Pescatarian, Raw Food, Weight Watchers, IFFYM, Atkins, South Beach, Etc. Etc. Etc.
If you're feel exhausted by this madness, you're in the right place.
Are you tired of being tricked/scammed?
---
We've all been there. Fallen for the lies and hypes of something too good to be true. You're not alone in this.
Are you asking yourself things like…
---
Are carbohydrates good for me or not?
How do I know how to find good information?
What's the deal with gluten?
It's amazing how some of the basics have gotten lost on us…
Finally, would you like a friendly stick-figure nerd to clear all this up for you?
---
You want someone to untangle the weeds and get you to the basic science of being healthy, in terminology you understand and can relate to. This way, you can be a better advocate for your own health and stop being so confused and start living a truly healthy and happy life.
Did you raise your hand to any (or all) of the above? Good. You are SO in the right spot.
In this course, we are going to help you get past the dogma, hype, and BS in the health and wellness industry and show you the basic science of what gets results and what doesn't.
By the end, you will have learned the most important fundamentals and principles to become the best advocate for your health and your life.
Some of the topics that are covered include...
---
Why Contradicting Diets Get People Results

5 Immutable Laws and First Principles of Living a Healthy Life

How to Spot Tricks, Scams, and Lies of the Health Industry

Genetics - How Much of a Role Do They Really Play?

How I Do My Research for Health and Trustworthy Fitness Information

10-Day Food, Health, and Happiness Challenge

How to Properly Fast for Optimal Health Results

What Supplements You Should Be Taking for Optimal Health

Different Types of Exercise for Different Results

Delicious Recipes for Better Health (Easy to Make Too)

How to Get Better Sleep, Reduce Stress, and Breathe Better

How to Track Your Progress and Results

Macronutrients and Micronutrients in Your Food and What They Mean

Average Time to Expect Results on Any Diet Program

How Different Diets are Optimal for Different Goals

Why Google Can't Be Trusted as a Reliable Source of Health Information
And everything you need to know as a complete beginner to start getting past the hype and into the real results of health and fitness.
Introducing the...
Food, Health, and Happiness Course
---
Past the Hype and Into the Simple Scientific Basics of Better Health for Beginners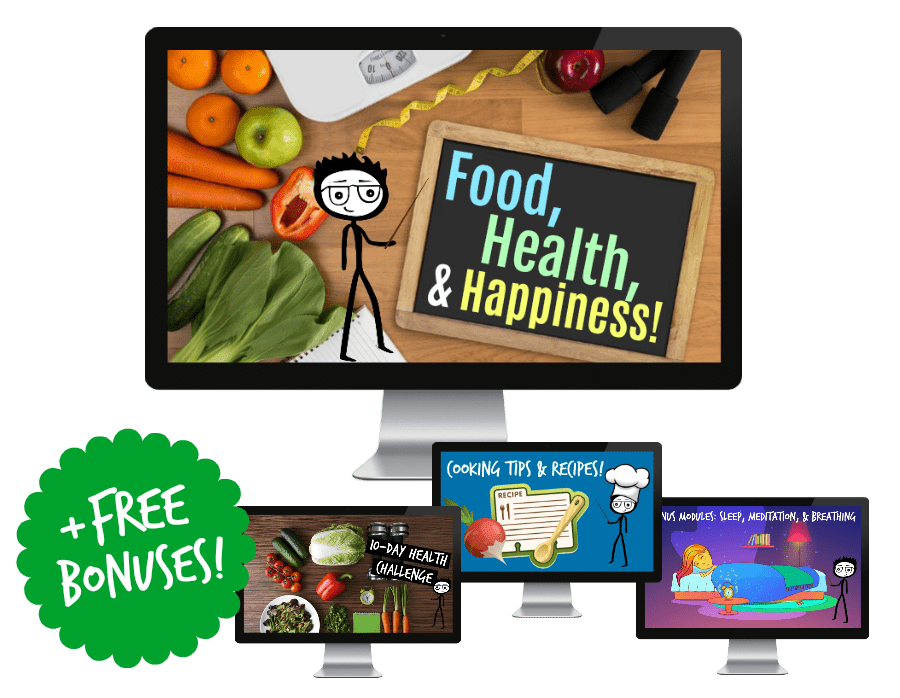 With 35+ Video Trainings and Over 3 Hours of Awesome Health-Filled Content!
Take a peak inside...
Course Curriculum
Introduction
Available in days
days after you enroll
The Scientific Truths of Health and Happiness
Available in days
days after you enroll
But that's not all! When you order today, you will also receive these FREE bonuses: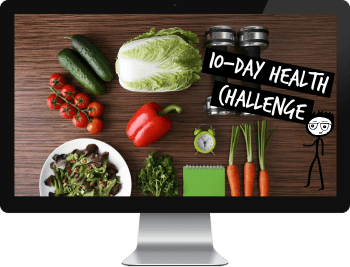 BONUS #1
---
10-Day Health Challenge
Can you follow all 5 core health principles for 10 days!? You'll feel amazing AND more confident in your dieting skills!
$29 Value - Yours FREE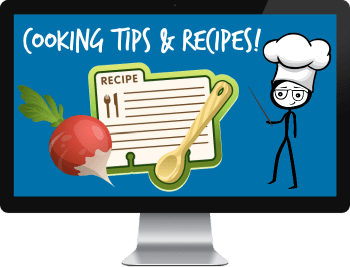 BONUS #2
---
10 Healthy Bonus Recipes
Healthy cooking tips + 10 bonus recipes that are SUPER simple, inexpensive, and great staples for your weekly diet
$19 Value - Yours FREE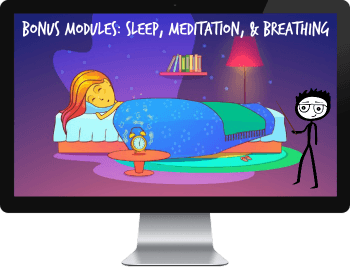 BONUS #3
---
Sleep, Meditation, & Breathing
Three bonus videos on how to sleep better, how to reduce stress through meditation, and how to practice better breathing
$49 Value - Yours FREE
The Food, Health, and Happiness Course can be accessed on your computer, tablet, or smartphone!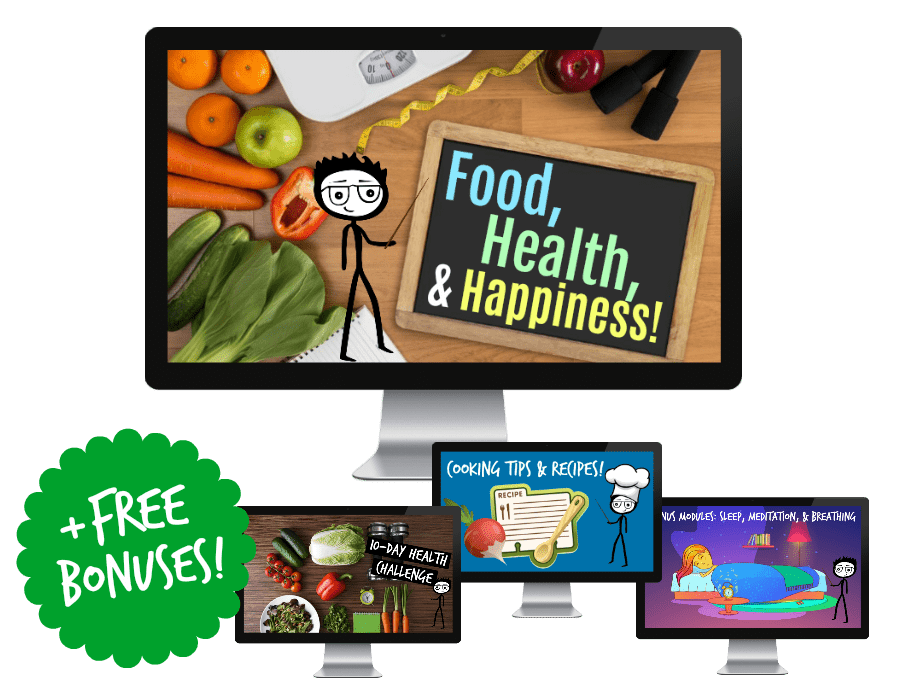 You will be given immediate access after purchasing, so you can get started right away!
Frequently Asked Questions
What is the Food, Health, and Happiness Course?
It is a course designed to give you the tools to help you choose dieting principles that will work for YOU in the long-term. The course will teach you how to sift through health and fitness information and pick out the credible sources that will help you on your health journey.
Is this a diet plan?
Not exactly. It is a course that will educate you on health information, including food. It does cover what types of food you should be eating for optimal health as well as what foods you should avoid. It also includes a 10-Day Dieting Challenge and some healthy recipes to start with!
Do I have to buy organic food or crazy supplements?
Only if you want to. The course recommends a few supplements that might be beneficial for you to add to your diet, but they are in no way required and there are absolutely NO gimmicks, weird detox teas, or any other ugly, hidden surprises for you!
Do you offer refunds?
No, we do not. Here's why. This is an information product, and the goal is to educate you on health and fitness topics to help you make better decisions for your health. This becomes a hard benchmark to measure as far as what you have learned and applied to your own life. We do offer a guarantee for our fast weight loss course because the benchmark of weight loss is much easier to measure. In addition, digital products technically cannot be "returned." We are also 100% confident that you will benefit from the material in this course! It is for these reasons that we do not offer refunds on this product.
Is my credit card secure?
Credit card security is extremely important to us. That's why we've partnered with Stripe to handle the billing and provide a secure socket layer, 128-bit encryption. Frankly, your credit card data is much safer making an online purchase through our secure site than it is using it to pay for gas or buy food at a restaurant. So feel comfortable knowing that your transaction is 100% completely protected from fraud. You will also have the option to pay with PayPal if you'd like.
Who exactly is The Health Nerd?
I introduce myself in the program and give you a background on my own personal health journey. So, if you grab this course, you will learn who is behind the channel! ;)
How do I get started with the Food, Health, and Happiness Course?
Just click the big bright button below and you'll get the product instantly. You can make a payment via Paypal, Credit Card, and Debit Card and the whole package will be in your hands in less than 2 minutes after payment.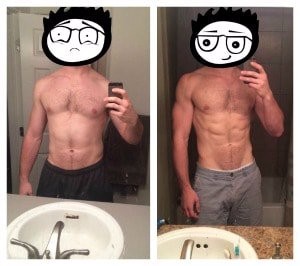 The Health Nerd, Fat Loss Expert
- CSCS, Certified Strength and Conditioning Specialist
- ISSA, Certified Nutrition Specialist
- NESTA, Certified Personal Trainer
The Food, Health, and Happiness Course can be accessed on your computer, tablet, or smartphone!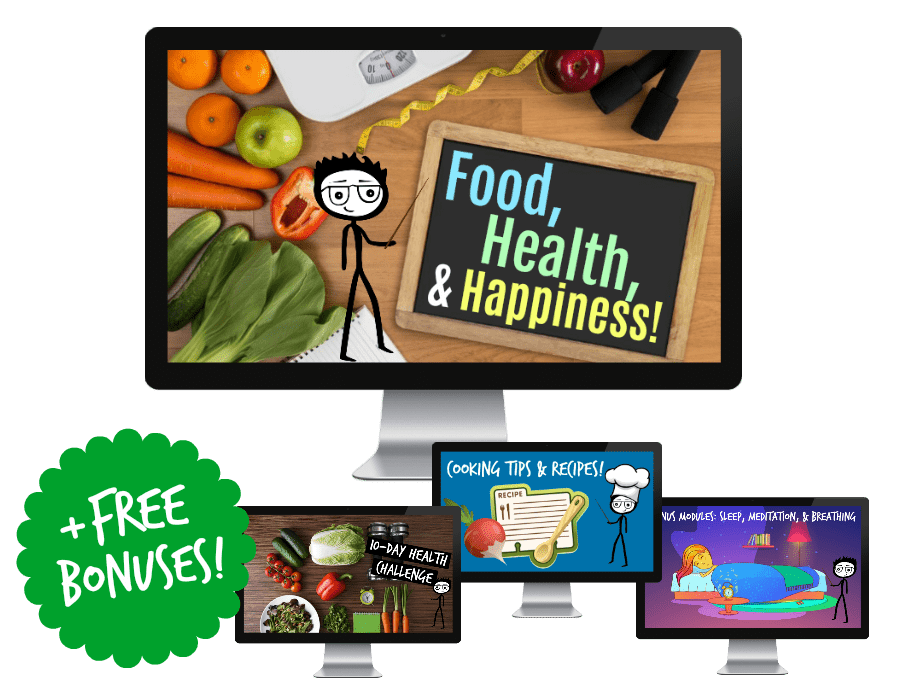 You will be given immediate access after purchasing, so you can get started right away!